My teaching specialties are the politics of economic inequality (which touches on many topics such as poverty, political representation, public policy, etc.), the US Congress (including issues such as representation, policymaking, elections, etc.), Introduction to American Politics (a general course for both majors and non-majors), and Congress and the Presidency, which focuses on two of the most important branches of American government in our time.  I also teach a graduate seminars in American Politics on the topic of Economic Inequality, American Institutions, and Intro to Quantitative Methods.
I previously participated in the Fulbright program serving as U.S. Studies Chair at Universidad Veracruzana in Xalapa, Mexico during Spring 2019.
I am also Director of the EcoHouse Learning Community, which focuses on the environment and sustainability and the politics of climate change.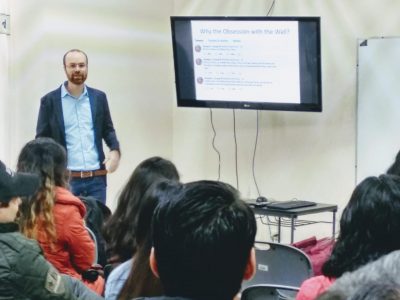 UConn Department of Political Science
Assistant/Associate Professor
Fall 2020
POLS 3618. Politics of Inequality
Spring 2020
POLS 5605. Seminar in Quantitative Methods of Political Science (Graduate Seminar)
Fall 2019
Sabbatical
Spring 2019
US Studies Chair (Fulbright), Universidad Veracruzana. Xalapa, Mexico.
Fall 2018
POLS 3618. Politics of Inequality
POLS 5407 and POLS 5406. Special Topics in American Politics: Politics of Inequality (Graduate Seminar) 
Spring 2018
POLS 3618. Politics of Inequality
POLS 1602. Introduction to American Politics
Fall 2017
POLS 3604. Congress in Theory and Practice
POLS 5407. Seminar in American Institutions and Policy (Graduate Seminar)
Spring 2017
POLS 1602. Introduction to American Politics
POLS 5605 Seminar in Quantitative Methods of Political Science (Graduate Seminar)
Fall 2016
POLS 3604. Congress in Theory and Practice
POLS 3618. Politics of Inequality
Spring 2016
POLS 3602. Presidency and Congress
Fall 2015
POLS 5406. Special Topics in American Politics: Politics of Inequality (Graduate Seminar)
Spring 2014
POLS 2998. Politics of Inequality
POLS 3602. Presidency and Congress
Fall 2014
POLS 3604. Congress in Theory and Practice
Spring 2014
POLS 1602. Intro to American Politics
POLS 3604. Congress in Theory and Practice 
Fall 2013
POLS 2998. Politics of Inequality
POLS 3602. Presidency and Congress
Trinity University
Visiting Assistant Professor
American Politics

Legislatures in the U.S.

U.S. Political Economy

Associate-In/Lecturer Positions (UCR)

Politics and Economic Policy, POSC 180, Summer 2012

The U.S. Congress, POSC 101, Summer 2009

Elections and Political Participation, POSC 143, Summer 2008, 2010, 2011
UC Riverside Department of Political Science
Teaching Assistant
Theory and Methodology of Political Science (POSC 114), Spring & Summer Quarter 2009

Politics of Public Health (POSC 180S), Winter Quarter 2009, Spring Quarter 2008

Politics of Congressional Elections (POSC 148), Fall Quarter 2008

American Politics (POSC 10), Summer 2008, Fall Quarter 2007, 2006

Politics and Economic Policy (POSC 182), Winter Quarter 2008, Summer 2007

Judicial Politics (POSC 166), Spring Quarter 2007

Political Ideologies (POSC 5), Winter Quarter 2007
UC Riverside University Writing Program
Teaching Assistant
Introduction to Composition (ENGL 1A), Fall Quarter 2011, 2010, 2009, Winter Quarter 2012

Intermediate Composition (ENGL 1B), Spring Quarter 2010, 2011, Winter Quarter 2010

Applied Intermediate Composition (ENGL 1C), Spring Quarter 2012
CU-Denver Department of Political Science
Teaching Assistant
Introduction to Political Science, Spring Semester 2006
American Political Systems, Fall Semester 2005
Introduction to Political Science, Spring Semester 2005